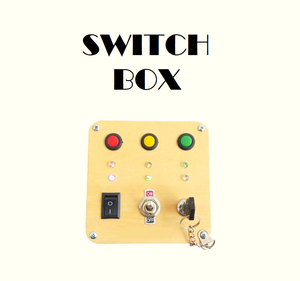 This switch box is compact and perfect for travelling. It helps to develop fine motor skills, logical thinking, and creativity. Children will have fun switching on and off the light using different switches.
Not suitable for children under the age of three due to a choking hazard. This busy cube is made with child's safety in mind, but it is advised that they are played under adult supervision.

This activity cube is made from natural wood and high-quality materials. It is painted with a non-toxic, unscented, water-based paint. All parts are secured with screws and the natural wood is finely sanded to prevent any injury. 
*** 9V battery is required and not included as it's forbidden from air freight. ***
Measurement (approximately) : 10cm x 10cm x 4cm
*It requires batteries.